2003 Tomatoes and Peppers In Our Garden

All ready for the August 2002 Taste Test Party!
This year, we are trying several new varieties of tomatoes and peppers, along with some dependable ones, including former taste test winners. All were started from seed in January and February, and will be set out in the garden in late April. Comments in quotation marks are from the Tomato Growers Supply Company, source for these tomato and pepper trials.
TOMATOES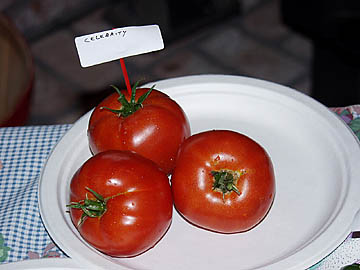 Bush Celebrity VFFNTA Hybrid
"A new version of the ever-popular Celebrity that takes less garden space while retaining the same Celebrity fruit size and excellent flavor. Plants are definitely shorter than those of the original Celebrity, making them easier to stake. The 8 to 9-ounce tomatoes of Bush Celebrity ripen more evenly than the green-shouldered original Celebrity, but boasts the same great blend of sugars and acids in their flavor. Determinate. 67 days."
Celebrity is one of our favorites, a consistent performer year after year. I am curious if they really grow on plants that get less than five feet tall!
Early Girl VFF Hybrid
"Comes in first as an early slicing tomato and our customers' favorite early variety. Dependable large harvests of flavorful, solid 4 to 6 oz. fruit. Disease resistance is good, contributing to its excellent performance in almost any climate. A proven variety for delicious, early tomatoes. Indeterminate. 52 days."
I flipped a coin to see which early variety would be going in the garden this year: early girl or first lady. Early girl wins...for 2003.
Ace-High Improved VFFNA Hybrid
"Extra-large, 10 oz. tomatoes with wonderful flavor ripen 5 days earlier than the original Ace. Fruit is also larger, firm and smooth. Well adapted to growing in Western states. Determinate. 71 days."
I was very impressed with the size (some were six inches across!), quality, flavor and extended harvest season of the Ace 55 last year. Will this new variety beat it?

Shady Lady VFTA Hybrid
"Well known in California for being a top performer in tomato fields and a favorite in farmers' markets, this one grows well in other regions and climates. Large, determinate vines with ample foliage provide excellent coverage for the fruit, preventing sunburn, hence the name Shady Lady. Round, globe-shaped red tomatoes range from medium to extra large, and have an excellent flavor. Determinate. 75 days."
Heck, I never heard of it. We'll see if it really is a California favorite.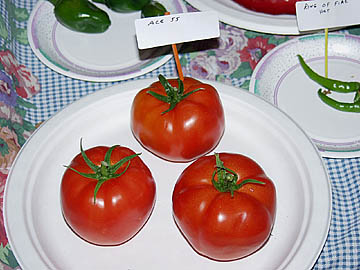 Ace 55.
"8 to 10 oz. round, red fruit have very good tomato flavor and excellent yields. This variety is lower in acid than most other tomatoes and often recommended to people who are on a low-acid diet. Determinate. 80 days."
For its uniformity of large size, prolific production throughout the growing season as well as outstanding flavor, the Ace 55 is the 2002 Farmer Fred Taste Test Winner! A UC Cooperative Extension taste test winner in 1999. I was happy to redicsover this old favorite in 2001. In our garden, it produced fruits well over one pound, great for slicing.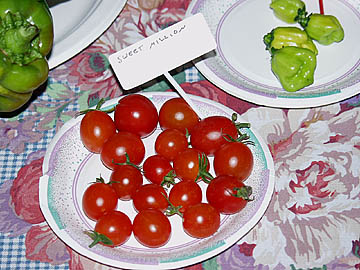 Sweet Million.
"An improved version of Sweet 100, this variety offers the same wonderful flavor and yields, but much better disease resistance and tolerance to cracking. Incredibly long clusters of 1 inch dark red fruit grow on tall, vigorous plants. 65 days. My favorite cherry tomato, great for snacking directly off the vine."
Once again, Sweet Million is a 2002 Farmer Fred Taste Test Winner ! A 2001 Farmer Fred Pepper Party Taste Test Winner (yes, we sample tomatoes, too). This is a productive cherry tomato, with tons of fruit on an indeterminate vine that tops out at six feet tall. And sweet! The small (one inch) fruit are great for snacking. I add this tomato variety to my chili instead of sugar. If I was forced to only grow one tomato plant, this would be it. I grow this variety each year for a number of reasons; not the least of which: my dentist requests a plant for himself each spring. I trade him for toothpaste and floss. And the camera crews from HGTV love it, too!

Sweet Baby Girl Hybrid
"A major seed company set out to find a cherry tomato that was extra flavorful and sweet on a productive, but more manageable plant. The result is Sweet Baby Girl, and it does indeed have incredible harvests of tomatoes on healthy, compact plants. Dark red fruit has great, sweet flavor and grows in long clusters. Resistant to tobacco mosaic virus. Compact indeterminate. 65 days."
A contender to the Sweet Million title?
Brandywine OTV
"OTV Brandywine is a strain of Brandywine that came from a natural cross between Yellow Brandywine and an unknown red tomato. "OTV" stands for "Off the Vine," an heirloom tomato newsletter once published by Carolyn Male and Craig LeHoullier. These tomatoes are red, foliage is potato-leaved, and yield is often greater than that of regular Brandywine, especially since OTV Brandywine sets fruit more easily in warm weather. Fruit weighs about 1 lb. and its flavor is delicious, the perfect blend of sugars and acids. Indeterminate. 85 days."
OK, I will always try free seeds! Generally, I am not too thrilled with Brandywine: too much cracking and blossom end rot. Very juicy, though.
PEPPERS

Fooled You Hybrid
"Truly a jalapeño pepper for gringos, this one has no heat, but still retains the essential flavor of a jalapeño. Peppers look like normal jalapeños except they are a little larger at 3.25 inches long. The fruit is thick-walled and heavy, and like other jalapeños, is borne in profusion. This variety is perfect for making mild salsas or using in Mexican dishes served to children or others who do not tolerate spicy food. 65 days."
Our first year of testing. We'll see how mild it really is!

Aji Dulce #2
"Look just like a Red Habanero, but has little or no heat. This variety is popular in Latin American countries, because the pretty 2 in. long red peppers offer the same strong aromatic essence and flavor that is found in Habanero, with only a hint of heat. Tall plants produce an abundant harvest of tasty fruits. 85 to 90 days."
Another first-timer for us. Our goal for 2003: don't grow so many intolerably hot peppers!

Sweet Pickle
"Very compact plants are crowned by a profusion of upright peppers in colors of red, orange, yellow, and purple, all at the same time. Peppers are about 2 inches long and chunky, making for a spectacularly colorful display. While highly ornamental, this fruit is also very edible and sweet, especially when fully ripened to red. As the name suggests, would be beautiful pickled in clear glass jars. 75 days."
I'm thinking...it'll look better than it will taste. But, what the heck, let's give it a try.

Red Marconi
"Deep red, extremely sweet, 7 inches long Italian peppers are tapered with a blunt end. Often used for frying, but are also delicious when eaten fresh. Later to mature than a bell pepper, but also sweeter. Vigorous plants bear loads of high quality fruit. 120 days."
Giant Marconi is a family favorite, we will see how the Red Marconi stacks up.
Red Cherry Sweet
"1 1/2 inch round fruit with a slight taper; turn from deep green to red and have medium-thick walls. Use in salads and for pickling. 78 days."
I've turned into a grilling maniac, especially skewered vegetables (mmm...grilled asparagus!). This new entry (for us) may qualify as best pepper for a shish-kabob stick!
Jingle Bells Hybrid
"Miniature, 1-1/2 inch blocky red and green bell peppers load up in abundance on compact plants. Because they mature so early, fruit ripens to red sooner than most varieties. Innovative cooks will enjoy using these peppers in salads, stir-fries, and for stuffed hors d'oeuvres. Plants are resistant to tobacco mosaic virus. 60 days."
Another 2003 "will it grill?" entry.

Jimmy Nardello
"Although technically a frying pepper, this is one of the sweetest non-bell peppers you'll ever taste. Bright red, 6 to 7 inch long peppers are only about 1 in. wide, and taper from the shoulder to tip, with a curving, somewhat wrinkled appearance. They are great for adding to salads or cooking into stir-fries. No matter if you use it fresh or cooked, its flavor remains very sweet. Expect large yields. 80 days."
I think I went to grade school with a Jimmy Nardello.

Golden Calwonder
"Golden-yellow at full maturity, these peppers are thick-walled, meaty and really sweet and tasty. Square shaped fruits are about 4 inches long and wide, and grow upright on healthy, plants, making harvesting easy. Expect great production and beautiful, very sweet tasting peppers, perfect for enjoying fresh, cooked, or stuffed. 73 days."
The search for the perfect yellow pepper continues in 2003...

Cherry Pick Hybrid
"This is the first hybrid sweet cherry pepper, offering earlier maturity and more uniform size and shape than open-pollinated cherry peppers. Very productive plants yield loads of 1 1/4-inch round fruit that mature from dark green to bright red. These are best loved for pickling, and the peppers can be used green, red, or halfway in between. 68 days to green."
Another entry for the "will it grill?" competition.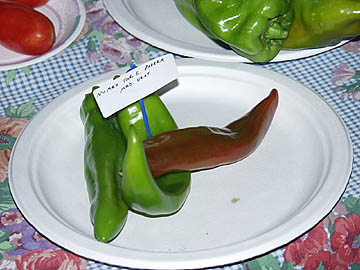 NuMex Joe. E. Parker.
"This is a very productive version of NuMex 6-4 that offers more uniform peppers. 6 to 7-inch thick-fleshed peppers turn from green to red and are relatively mild to medium in flavor. Ripens earlier than most other peppers of its type. 65 days."
The overall winner of the Farmer Fred Pepper Party Taste Tests in August, 2000. Great in chili!

Habanero
"A blistering hot pepper 40 times hotter than Jalapeno! Among the most potent ones we sell. Wrinkled fruit is 1 inch long and 1-1/2 inches wide, with a tapered end. Peppers begin as light green then turn to golden-orange and are loaded onto 36 inch tall plants. Thrives best in warm southern climates. 90 to 100 days."
Every garden needs something to appease the masochists!

Serrano
"Very hot chile called for in many recipes. Candle-flame shaped fruit are 2-1/4 inches long, green, then red at full maturity. Borne on attractive 30 to 36 inch erect, branching plants. Suitable for salsas and sauce recipes as well as eating fresh. Vigorous bearer. 75 to 80 days."
I like 'em sliced and baked on top of a tortilla chip, with a smattering of Velveeta. Who says I ain't got no class?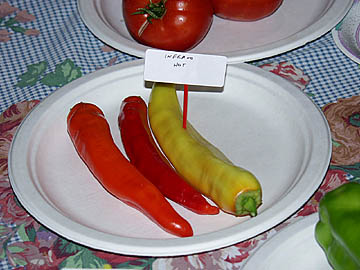 Inferno.
"Hybrid Hungarian hot wax pepper. Very productive plants bear 8-inch long, very hot banana peppers with medium-thick flesh. They mature from yellow to red and are larger than older, open-pollinated types of Hungarian Wax. Great for pickling. 60 days."
A 2002 Farmer Fred Taste Test Winner as well as the 2001 Farmer Fred Taste Test Winner. Warm to hot, depending upon your tolerance. This Hungarian Wax pepper is not too hot (about 1,000 Scoville units, I reckon). The heat is more of a delayed reaction (tricky!), allowing you to enjoy the spicy flavor first.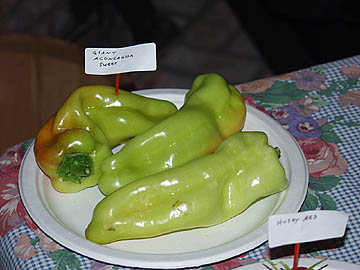 Giant Aconcagua.
"70 days. Flavor as sweet as apples! Gourmet chefs use them in salads, stir-fried, roasted and stuffed. Long fruits grow up to 11" and can weigh up to 12 ounces. Best flavor at light green stage."
2001 Farmer Fred Taste Test Winner. Big and cylindrical, this one is eleven inches long, over 10 oz. in weight, and won raves munched on raw; or cooked, stuffed with tomatoes and beef. I still prefer its similiar cousin, the...
Giant Marconi
"72 days. 2001 AAS Winner! While not technically a Marconi Pepper, it displays so many similar traits it has earned the name! Large, tapered, elongated fruits grow 8" by 3", with a sweet, smoky flavor that's equally delectable when fruits are eaten green or red, fresh or grilled. Widely adaptable, it produces larger than normal crops just about anywhere. Withstands severe weather with excellent disease resistance."
A 2002 Farmer Fred Taste Test Winner as well as the 2001 Farmer Fred Taste Test Winner. This 2001 AAS Award Winner has (in my opinion) more flavor than the Giant Aconcagua.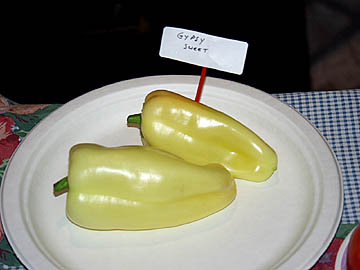 Gypsy.
"60 days. 1981 AAS Winner. An extremely early, heavy producer. Plants grow to 18", bearing wedge-shaped, tasty, sweet peppers with sturdy walls and crunchy, firm, sweet, flesh. A very reliable yielder, all season long. Tobacco Mosaic Virus resistant."
I grow this one every year. Dependable and colorful, the Gypsy starts off as a pale yellow, and eventually darkens to orange-red.