CHOOSING AND PLANTING BARE ROOT FRUIT TREES
Late December through mid-February is the time to plant bare root fruit trees in the Central Valley, Bay Area and foothills; a great selection is available at area nurseries. But, which ones will bear the tastiest fruit in a few years? This question is posed several times each year to a group of taste testers gathered at Dave Wilson Nursery, a wholesale fruit tree grower in Stanislaus County. Industry professionals gather here each summer and fall, sampling 20 to 30 varieties of each fruit. The high scorers, after years of being judged on appearance, acidity, sugar content and taste include:
Arctic Supreme white peach. "This is a sensational peach with a great acid and sugar balance," says Ed Laivo, who formerly conducted the taste tests at the nursery.
Van cherry. A cold hardy, heavy bearing variety that requires a pollinator. Laivo recommends the Craig's Crimson for this task, a cherry tree that also produces great tasting fruit.
Arctic Glow white nectarine. "I look forward to it every year," says Laivo. It's an early season nectarine, producing fruit in late June and early July.
Hosui Asian pear. "Hands down, it is a yearly taste test winner here," says Laivo.
Dapple Dandy pluot. This plum/apricot cross has a greenish-yellow skin with red spots, containing creamy white/red flesh. "It has a very complex flavor, and scores higher than cherries on our taste tests," says Laivo.
Other fruit varieties that are on the most-favored list at Dave Wilson nursery include Gala and Arkansas Black apples; Laroda and Emerald Beaut plums; Bosc pears; Tomcot and Blenheim apricots; and, the Indian Free peach.
A complete list of taste test winners can be found at the Dave Wilson Nursery Website.
HOW TO PLANT BARE ROOT FRUIT TREES
When planting any bare root fruit trees, be sure to choose an area of the yard that gets full sun and good drainage, especially for cherries and apricots. Laivo recommends building raised beds if drainage is a problem. If you keep the overall height of the trees less than eight feet tall - which Laivo advises - you can plant four fruit trees in a raised bed that is only four feet by four feet, and 16 inches deep, setting the trees in just 18 inches apart. "The main thing to remember is to group trees together that have similar root stocks and spraying needs," says Laivo. "For example, apples, which may require a summer spray to control codling moth, should be grouped by themselves."
Tips when planting bare root fruit trees:
* Soak the roots overnight in water before planting. If the tree is not going to be planted within 24 hours after purchase, "heel" the tree into a pile of soil or a big bucket of soil mix. Cover the entire root area of the tree so they don't dry out. Keep the soil moist until the tree is planted.
* Dig the planting hole for the fruit tree wide, not deep. It's not necessary to dig a hole any deeper than the length of the rootstock, usually about a foot. However, if drainage is a problem, be sure to break up any layers of hardpan that may exist in the current soil. Planting in raised beds can solve this easily. Dig out an area at least as wide as the spread-out roots of the tree, about two and a half feet.
* Place the tree on a slight mound in the middle of the hole, and then spread out the roots; don't let them encircle the tree. Face the bud union of the fruit tree (where the root stock and fruiting section have been grafted, you'll see the bump) to the north east, away from the direction of the sun. Use just the native soil to fill in the hole. Wait until growth begins on the tree in the spring before adding any fertilizer; for it's first two years of growth, dilute the fertilizer by half the recommended dosage, to keep from burning the young roots.
* When you're done planting, cut the tree at knee level. This will give you a good start to keeping the fruit within easy reach.
* Paint the tree with a diluted mix of white interior latex paint and 50% water. This will protect the bark of the young tree from sunburn.
* Don't forget add an irrigation system for the fruit trees!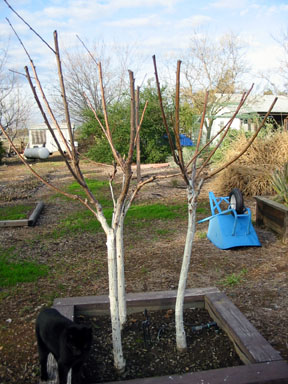 Buddy the Cat inspects the raised bed that holds three, two-year old cherry trees that will ripen at different times. The raised be is made out of redwood, is three feet by three feet, and 16 inches high. The soil mix for the bed contains compost, perlite, and peat moss. It's watered by a drip irrigation system, installed in the bed. The cherry trees are purposely kept at a height no greater than seven feet to keep the fruit within easy reach.
BRINGING OVERGROWN FRUIT TREES DOWN TO SIZE
But what if you're fond of the fruit from the tree already in your backyard, but it's getting to the point where the fruit is available only to you if you're standing on a tall ladder? Winter is the time to start getting that fruit back within easy reach.
"Every winter for the next three years, reduce the total height of the fruit tree, taking off a total of one-third of the canopy," advises Ed Laivo, formerly of Dave Wilson Nursery. "For instance, if the canopy begins at five feet from the ground and then extends to 15 feet in the air, you would want, at most, to only remove five feet of that canopy over three seasons, to a total height of 10 feet. That would give you a canopy with about five feet of fruit. Remember that you will lose fruit production when you cut back by one-third. To encourage fruiting wood inside the canopy, tip prune the top of tree each summer."
A couple of cautionary notes: "If you have an older, established tree that is quite tall, call an arborist who is experienced in drop-crotching, the process of bringing a large tree back down in size," says Laivo. And remember, this sort of radical pruning is meant only for the benefit of food production on deciduous fruit trees; don't try this on your ornamental shade trees. "Those trees need proper pruning techniques to develop correctly," warns Laivo.