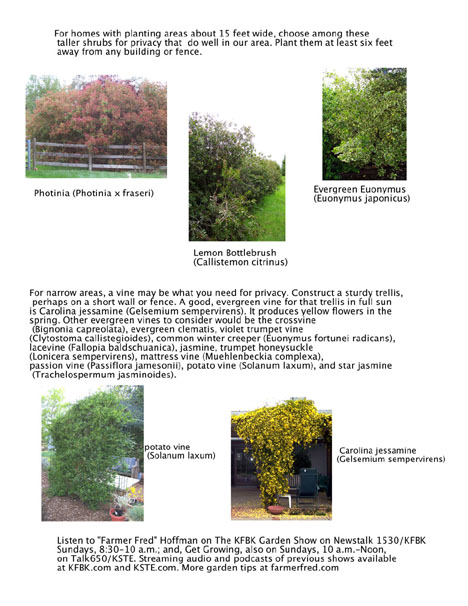 More Easy Care Plants for Privacy
At nurseries throughout the area, the springtime search is on for low-maintenance plants to fit our busy lifestyles. For those seeking easy care, low growing bedding plants who want the beauty of a colorful landscape without weekends full of garden work, there are plenty of choices. These easy care shrubs, perennials or self-sowing annuals, which return year after year, include African daisy, cosmos, dusty miller, verbena, alyssum, salvia, begonias, vincas and shrub roses. But if you are looking for taller-growing, minimum hassle plants that will give your yard some privacy, here are some that are a perfect Sacramento County fit. All of these require full sun and regular water:
• Evergreen Euonymus (Euonymus japonica). This plant gets 8-10 feet tall, and is considered a real garden "toughie". Euonymus can take lots of heat as well as poor soil. Many euonymus varieties have glossy, leathery, all-green leaves. But there are varieties that have more leaf color, such as the aureo-variegata, which has leaves with splashes of yellow surrounded by a green margin.
• New Zealand Flax (Phormium tenax). Any plant that can thrive in our south county yard, an area that gets heavy wind, high heat and can still prosper in our rocky, clay hardpan gets my vote for plant of the year. Our New Zealand flax plants not only survive in those conditions, but came through like champs during the extensive backyard excavation, grading and remodeling work that took place near their roots three years ago. New Zealand flax can get to nine feet high with a six to eight foot spread. The long, sword-shaped vertical leaves have a brownish red color; other flaxes have colors that range from purplish-bronze to yellow. New Zealand flax works well as a screening plant, hiding unattractive (yet necessary) backyard equipment such as swimming pool pumps and filters.
• Photinia (Photinia fraseri). There's a reason you see these shrubs everywhere around here: photinia is a fast growing shrub whose established green leaves are complemented by the new, reddish-colored growth this time of year. Photinia makes an excellent privacy screen, getting eventually to 15 feet tall with an equal spread. For a smaller, slower growing variety, try the "Indian Princess". To get photinia to spread, pinch back new growth in the spring to encourage it to bush out.
• Bottlebrush (Callistemon citrinus). This plant, which produces red, brush-like flowers throughout the year, can take our heat and poor soils. Bottlebrush is fast growing and easy to train. Its flowers are attractive to bees and hummingbirds; so, people with aversions or allergies to bee stings should avoid this plant. On the other hand, if you're looking for a shrub that can get as tall as 15 feet that will keep the hummingbirds in your yard, the bottlebrush is for you.