GOOD CHOICES FOR LIVING CHRISTMAS TREES
* Aleppo, Mondell or Afghan Pine. Also called Pinus eldarica or Pinus halepensis. Takes sun and wind; good for windbreaks and erosion control. Likes most soils on the dry side. Eventual height is 30 to 60 feet with a 20 to 30 foot spread; grows rapidly. Needles are gray-green.
* Italian Stone Pine. A good choice for the valley. Can take heat and drought when established. Has a moderate rate of growth to 60 feet.
* Colorado Blue Spruce. Can take sun, shade and cold, but is susceptible to spider mites. Likes most soils, as long as they're well-drained. This tree with the bluish needles is a slow grower that will eventually get 60 to 80 feet tall with a 40 to 50 foot spread.
* Deodar Cedar. A tree that actually prefers clay soil (as long as there's no standing water), this evergreen can take sun, wind and heat. It's a rapid grower that will reach 50-80 feet with a 40-foot spread.
* Coast Redwood. Can get 70-90 feet tall, with a spread of 20-40 feet. Rapid growth. Prefers deep, moist soil. Can take full sun and heat of Valley. Needs regular watering in summer.
NOT SO GOOD CHOICES FOR LIVING CHRISTMAS TREES
There are some living Christmas trees at nurseries now that may be marginal performers in area yards. And, there are some that aren't trees at all.
At the top of Santa's horticulturally naughty list is the Monterey Pine, which is better for coastal environments. Here in the valley, the Monterey Pine is susceptible to pests, diseases and sulks in our summer heat.
Another Christmas-tree type plant that is widely available here is the Norfolk Island Pine. Known as the Hawaiian Christmas Tree, this is best planted outdoors...in Hawaii. Here, it makes a good house plant year round.
Given a little care, the dwarf Alberta Spruce can survive as an outdoor living Christmas tree here. Give it afternoon shade for best results. Limber Pines (Pinus flexilis), native to mountainous areas, tend to revert to rounded tops as they age. The exception is the "Vanderwolf Pyramid" variety, which keeps its Christmas tree shape. Another one to be wary of is the Grand Fir (Abies grandis). This tree could soon overwhelm a small yard, reaching heights of 200 feet. Other borderline trees that may have trouble here in the Valley include the Tempelhof cypress (Chamaecyparis obtusa) and the Blue Point Juniper (doesn't like too much water or slow draining soil).
And finally, when is a Christmas tree not really a tree? When it is a Rosemary plant, an evergreen shrub that's been pruned into a pyramidal shape. This herb is a great addition for its culinary and bee attracting qualities (blooms in the winter and spring), but would require constant shearing to keep it looking like a Christmas tree...uh, bush.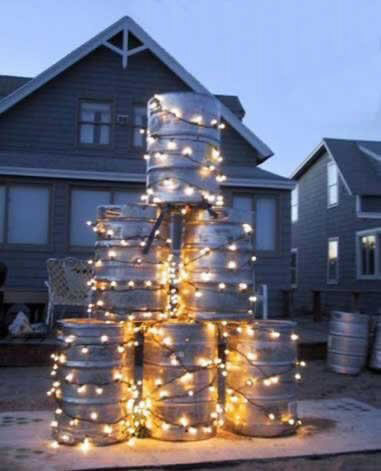 Fraternity House Christmas Tree

Tips for caring for a living Christmas tree:

* Don't keep it in the house for more than a week.

* Keep it away from heating vents, wood stoves and fireplaces.

* Water the tree everyday while it's in the house. A good way to insure a slow, thorough watering is to dump a tray or two of ice cubes into its container.

* Decorate it with the smaller, cooler, flashing bulbs.

* The tree can remain in a large container for a number of years, but you may need a furniture dolly to move it in and out of the house.

Cut Christmas Tree Care

'Tis the season of the traveling trees...Christmas trees, that is. December weekends are filled with vehicles traversing area roadways, with cut conifers balancing precariously on car rooftops or bouncing around in pickup truck beds. Whether you're visiting a choose-and-cut Christmas tree farm or any of the corner lots filled with already chopped cedars, pines and firs, here are some tips to keep your holiday centerpiece intact through the month: *When you get the Christmas tree home, immediately cut one inch from the base of the trunk and prop the tree up in a big bucket of water. Add more water daily. *Keep the tree in a cool, sheltered location until a few days before Christmas, such as an unheated garage or carport. Otherwise, the warm, dry air of your living room or den can hasten needle drop. Storing it in an environment that more resembles a forest as long as possible will keep the branches more pliable. *Before bringing the tree indoors, shake it vigorously to dislodge any loose needles or hitchhiking bugs. Check for ants, too. Cut another inch off the base of the tree before inserting the tree into its indoor stand. Top off that container with water on a daily basis; or, fill the stand with ice cubes regularly. *Position the tree away from any sources of hot, dry air such as fireplaces, wood stoves and heating vents.